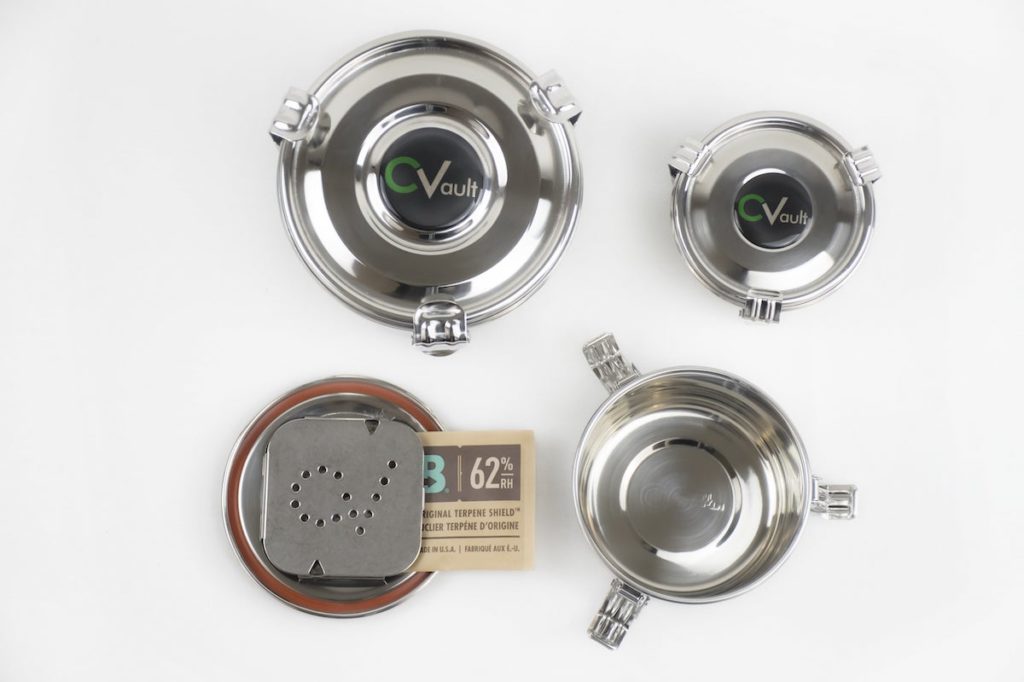 Constructed from food-grade stainless steel and available in a variety of sizes, the CVault is a sleek yet affordable gift for anyone on your list. A longtime favorite of cannabis consumers and cultivators alike, the CVault is impenetrable to light — meaning its precious contents stay fresh no matter how long they're stored. The interlocking lids contain a space to hold humidity control packs for an additional layer of preservation. The CVault's new sister product, the EVault, offers the same level of protection for larger volumes of oil and extracts that are perfect for long-term storage solutions or wholesale settings.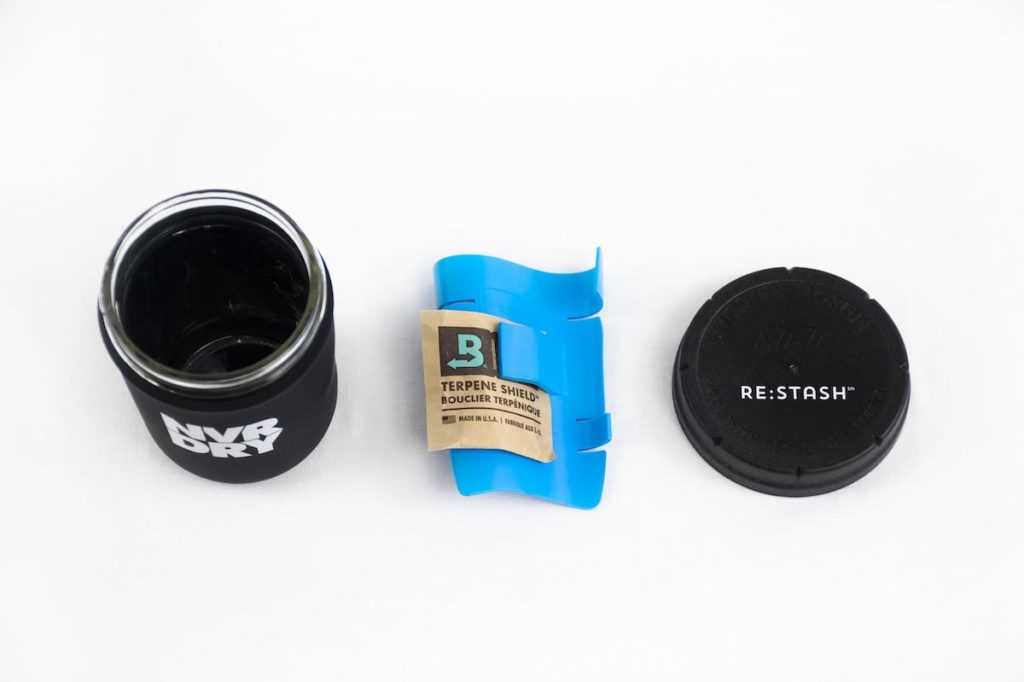 Mason jars have maintained an important place in the cannabis community for decades, but Re:stash brings these classic containers into the 21st century. Made of BPA-free eco-friendly materials, the Re:stash system consists of a sturdy jar, a silicon koozie, and a child-resistant lid made in the USA. These sleek components offer smell-proof sun damage prevention sure to put a smile on any recipient's face. The corresponding Re:vider separates your jar into two compartments, perfect for keeping multiple strains from commingling. There's even a clip to place humidity-control packets within! With Re:stash and Re:vider, your bud stays safe, secure, and smelling farm-fresh.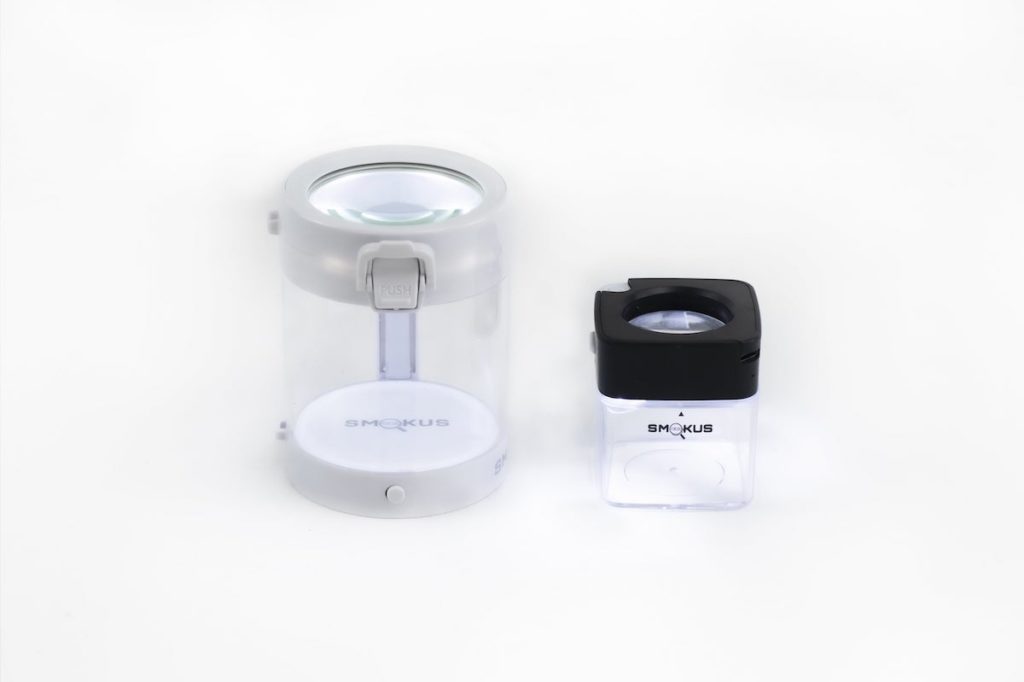 Changing the way the world views cannabis, Smokus Focus containers are beyond cool. Featuring LED lighting and a magnifier built into the lid, these jars truly elevate the storage and display game as they allow you to really get up close and personal with your stash. Available in several sizes, many with child-resistant lids, the Smokus Focus line meets the needs of cannasseurs and retailers alike.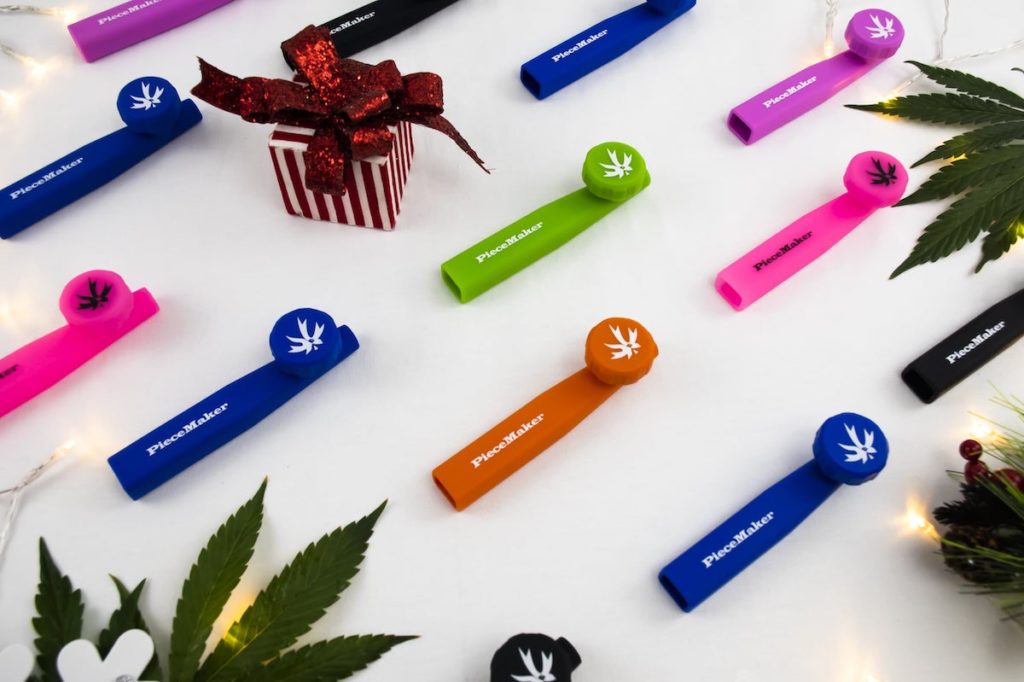 With a great selection of dry and water pipes, Piecemaker has developed a cult-like following over the years thanks to their sturdy yet stylish silicone smoking devices and accessories. Offering spoons, steamrollers, bubblers, and everything in between, the iconic brand's catalog has something for everyone. Piecemaker has even upped their holiday game by introducing fun items such as the super slick Kommuter lid, which discreetly turns any to-go cup into a functional bong.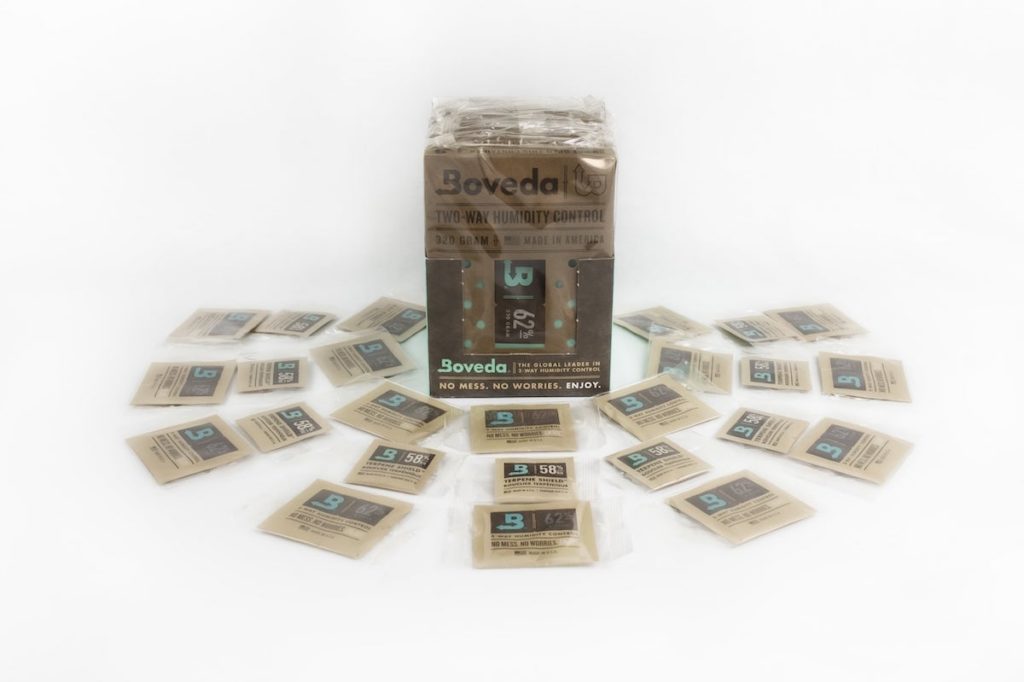 The category king when it comes to maintaining proper moisture levels, Boveda has been keeping cannabis flower fresh for years. The technology first developed to simplify the high maintenance of humidors for cigars can now be found in many of the top-shelf cannabis producers' packaging around the world. In addition to preserving terpenes, Boveda also helps maintain the perfect texture of bubble hash and kief. Product-wise, they have solutions to maintain a perfect relative humidity for everything from a nickel bag to five pounds.
The Hands-Free Smoker from RAW was created to take the labor out of smoking. This newly-released gadget is equipped with a flexible rubberized loop, designed to be worn around the neck. The fully adjustable joint holder doubles as an ashtray too! It can be positioned to easily align with the wearer's mouth, much like a harmonica holder. This is just one of many innovative items RAW has to offer beyond their excellent assortment of rolling papers.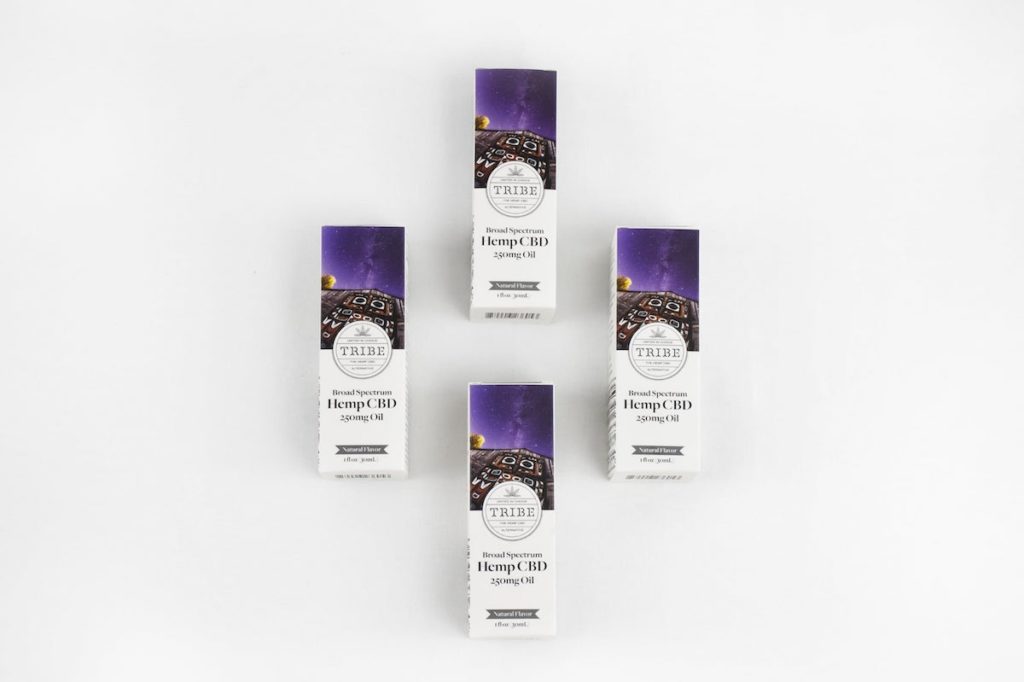 Tribe's award-winning Broad Spectrum CBD oil is available in a range of strengths and flavors. These proprietary blends of hemp-derived cannabinoid extracts offer fast-acting relief and high bioavailability, allowing your body to absorb the CBD efficiently and put it to work quickly. Tribe also offers a full assortment of CBD products including gummies, topical creams, and even a CBD-based energy shot.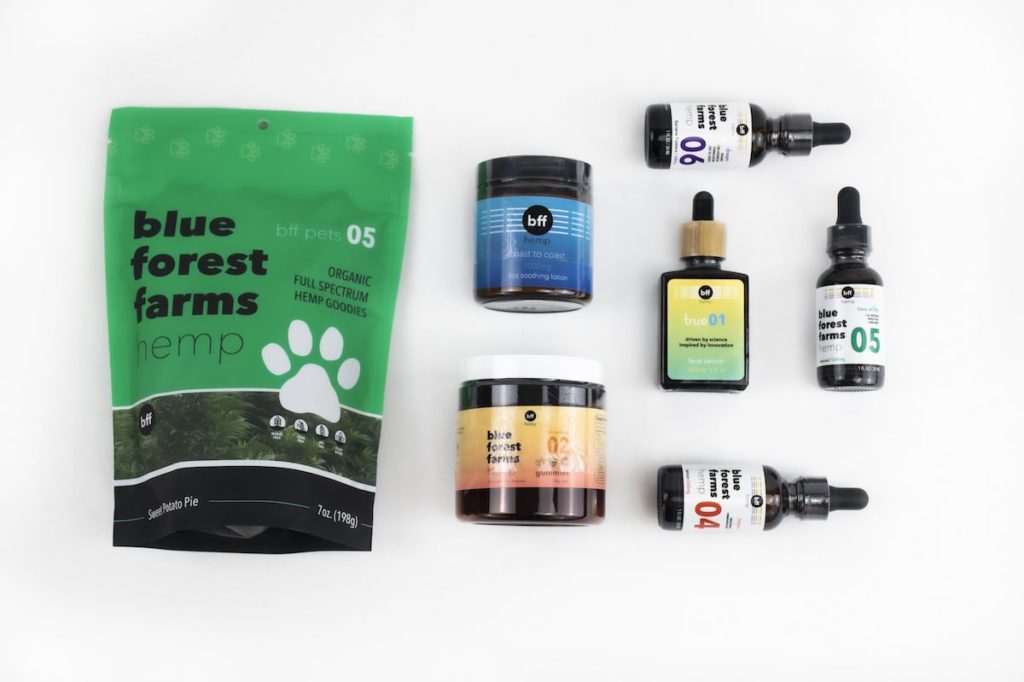 Blue Forest Farms is a minority-owned hemp company with a sustainable focus. They're registered with the Colorado Department of Agriculture, and all of their industrial hemp products are grown using safe, organic farming practices. This attention to compliance and safety separates them from the sea of hemp companies today. They offer a wonderful array of hemp-based products, including face serum, soothing lotion, gummies, and even dog treats!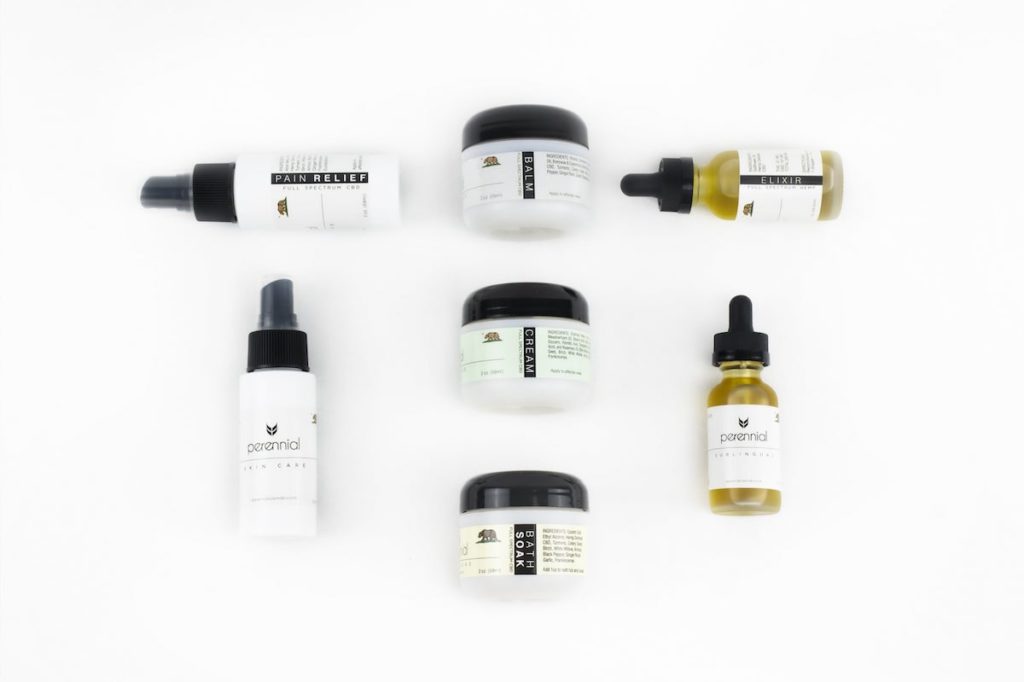 Perennial is a California-based lifestyle brand that's been harnessing the therapeutic and healing effects of cannabis to create and provide beneficial products for people's everyday lives since 2006. This nature-focused company has received high praise throughout the community, having been featured in publications like High Times, Sensi Magazine, and MJ Venture. They offer a wide assortment of products, all with homeopathic wellness in mind. The Perennial 'starter kit' includes one Balm, one Cream, one Pain Spray, and two Bath Soaks.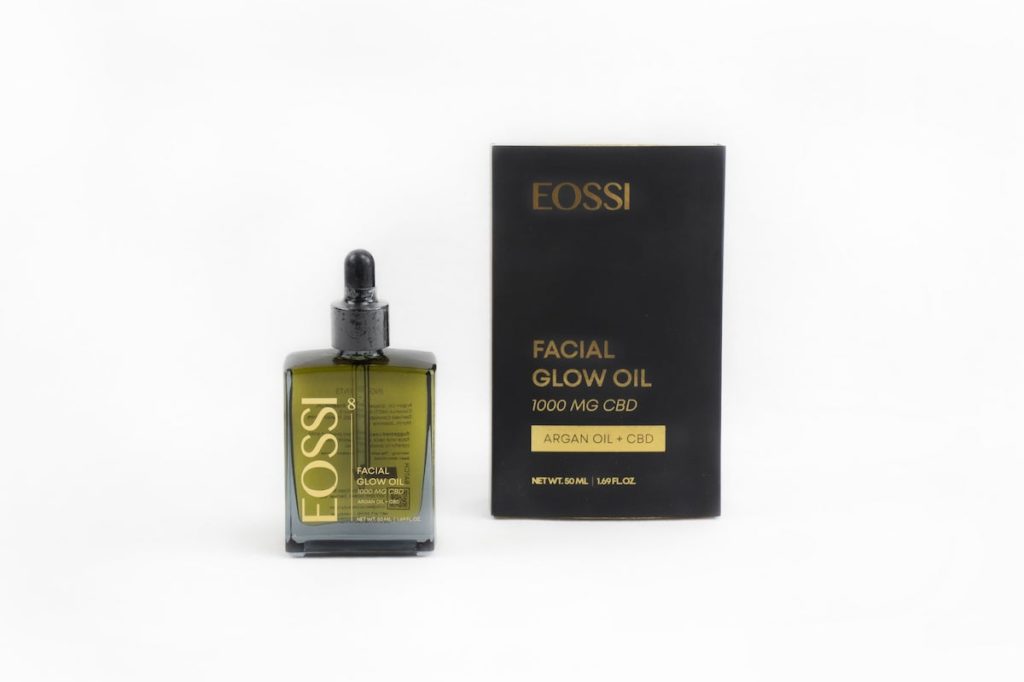 This female-owned and operated business helps you to bring out your 'inner goddess' with their plant-based beauty products. Eossi's Facial Glow Oil carries the restorative effects of CBD and Moroccan argan oils along with other all-natural ingredients including grapeseed oil, vitamin E, and rosehips. They believe in full transparency when it comes to their offerings, listing complete ingredient and product test sheets on their website for all to see.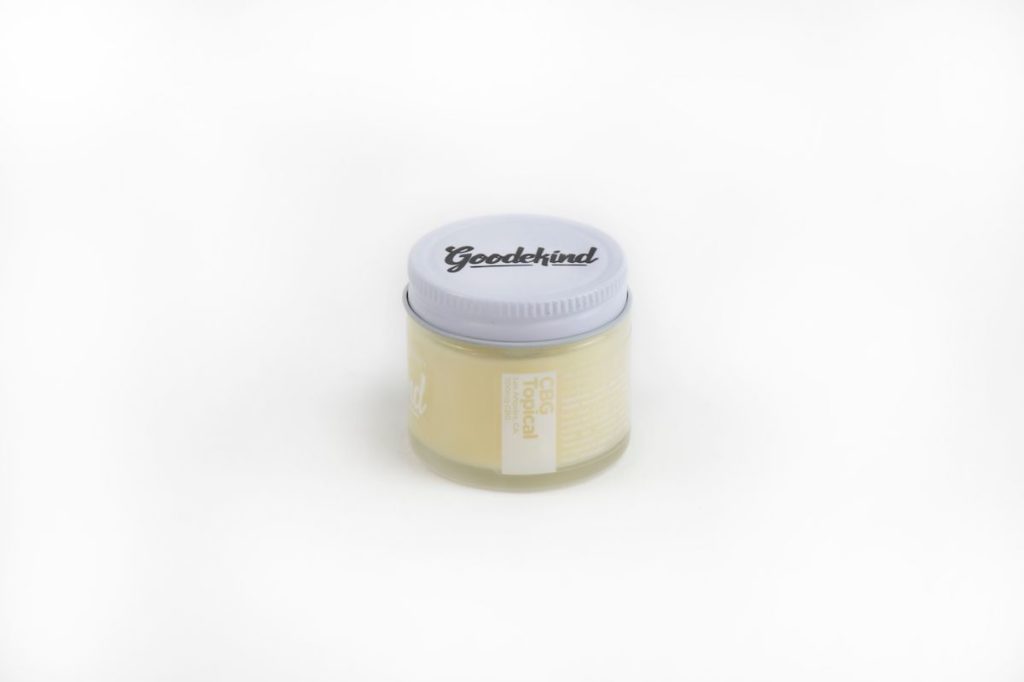 As a minority and woman-owned business, Goodekind strives to source from minority and women-owned farms and manufacturing facilities. In addition to being committed to sourcing high-quality products, they've also pledged to donate an eighth of all profits to human rights organizations serving the U.S. Their CBG topical is crafted for its healing potential and anti-inflammatory properties. It's infused with organic shea butter, organic beeswax, organic coconut oil, and essential oils to create a power-packed solution for sore muscles and joints or adverse skin conditions. Organic eucalyptus and peppermint essential oils add to the salve's relieving properties as well as to its calming scent.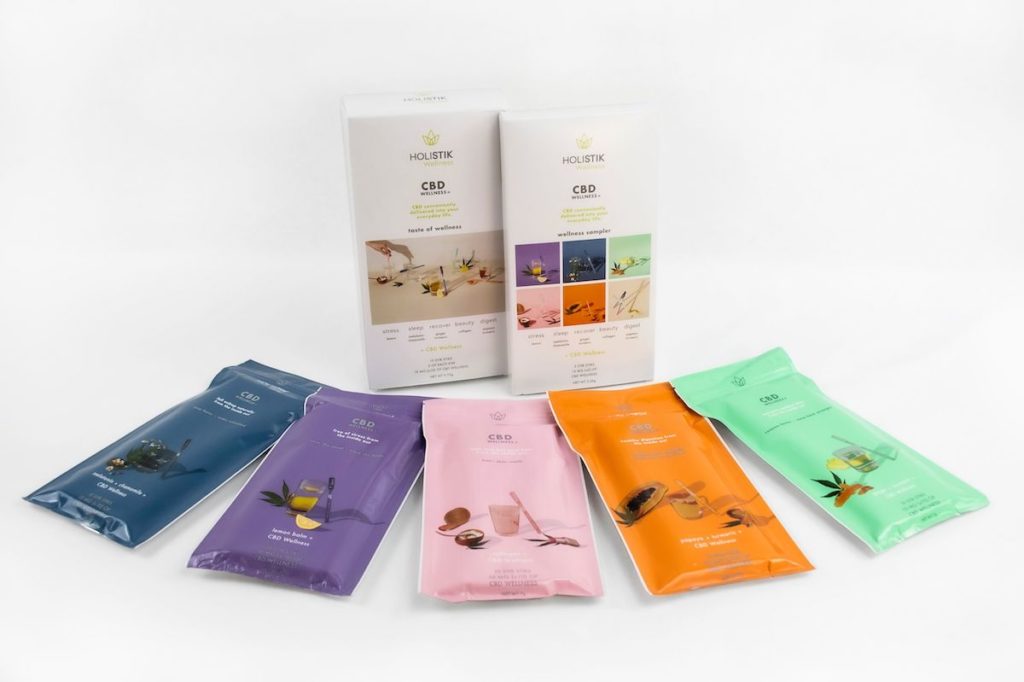 Holistik Wellness wants to help everyone benefit from the healing power of CBD Wellness. That's why they make sure every 'STIK' is packed with natural goodness from their greenhouse-grown hemp. Everything your body experiences, like mood, digestion, and sleep, is regulated by your internal endocannabinoid system. STIKs combine functional ingredients with CBD to activate your natural potential.